Advanced filters are very powerful and useful while dealing or filtering the data with verity of conditions. We can apply Advanced Filters using VBA. We can copy the data into another location or we ca filter the data in the same location.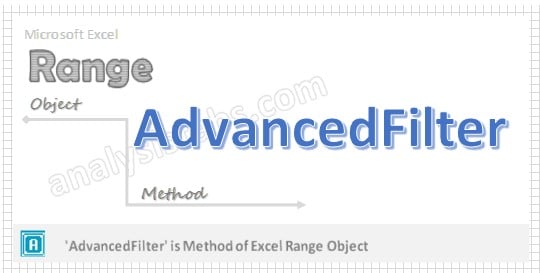 Excel VBA Range Advanced Filter – Syntax
Here is the syntax or VBA code to apply the advanced filter in a range of data.
Range("YourRange").AdvancedFilter(Action As XlFilterAction,

[CriteriaRange], [CopyToRange], [Unique])

Here AdvancedFilter is a Member of Excel.Range Object.
XlFilterAction: You can specify how you want perform the filter:

Const xlFilterInPlace = 1 will filter in the range data source.
Const xlFilterCopy = 2 will filter the data and copy to the target range, in this case you have to provide the [CopyToRange] which you want to copy the filtered data.

[CriteriaRange]: You can specify the filter criteria range where you can mention any criteria including formulas.
[Unique]: You can set to TRUE if you want to get unique records, False to set all records.

Excel VBA Range Advanced Filter- Examples

Here is the simple example to apply the advanced filer in a range. Assuming that you have data in Range "A3:B8" and You have specifies the criteria at Range "B1:B2". Here we are using xlFilterInPlace to filter the data in the data range itself. and no need to provide the target range.

Sub VBA_Range_Advanced_Filter()
    Range("A3:B8").AdvancedFilter Action:=xlFilterInPlace, _
    CriteriaRange:=Range("B1:B2"), Unique:=False
End Sub



Excel VBA Range Advanced Filter- Instructions

Please follow the below step by step instructions to execute the above mentioned VBA macros or codes:

Open an Excel Workbook from your start menu or type Excel in your run command
Now you have to prepare some sample data to test this macro.

Enter the header as SerialNumber at A3 and Value at B3)

Enter some sample data from range A4 to B8, say 1 to 5 in SerialNumber and 100 to 500 in values fileld
Now enter the criteria, I am entering at 'SerialNumber' at Range B1 and '>2' as criteria at Range B2. So your criteria range will be "B1:B2"
Press Alt+F11 to Open VBA Editor or you can goto Developer Table from Excel Ribbon and click on the Visual Basic Command to launch the VBA Editor
Insert a Module from Insert Menu of VBA
Copy the above code (for filtering the data in a range using Excel VBA) and Paste in the code window(VBA Editor)
Save the file as Macro Enabled Workbook (i.e; .xlsm file format)
Press 'F5′ to run it or Keep Pressing 'F8′ to debug the code line by line.

Now, You can observe that the records are displaying only for values 3,4 and 5.

Real-time Applications on Excel VBA Range Advanced Filters