Project Plan Template for Data Analysis is created using Microsoft Excel. It is a Free Excel Template for scheduling and tracking tasks the Data Analysis Projects using Excel. You can download this free Project Management Data Analysis Excel Template and Open in MS Office. Project Planner Template for Data Analysis comes with Dashboard, Gantt Chart in a separate Data sheet with most usefule and common task fields.
Free Project Plan Template for Data Analysis
Download our ready to use Data Analysis Project Plan Template for effective project management. Excel Project Planner Template 2016 is a simple template and very easy to plan your project activities, resource and timelines.  This template contains Data sheet, Gantt View of Project Plans along with overall project completion status in Excel Format.
Main Features of Data Analysis Project Planning Template
Here are the main features of Data Analysis Project Plan Template. This helps you to clearly understand the template for better usage and effective management.
How to use Project Plan Template for Data Analysis
Planning your projects is very easy when you use this template. We have provided very easy to use and user-friendly format in Excel Format. Follow the below simple instructions to download and plan your projects using the Best Project Plan Template for Data Analysis.
Entering Project Activities in Data Analysis Project Planner
We have created s separate Data Sheet (Plan Data Sheet) for planning your tasks. We have created List Object (Table) with minimum and important fields. You can clear the data in the table and start adding your activities.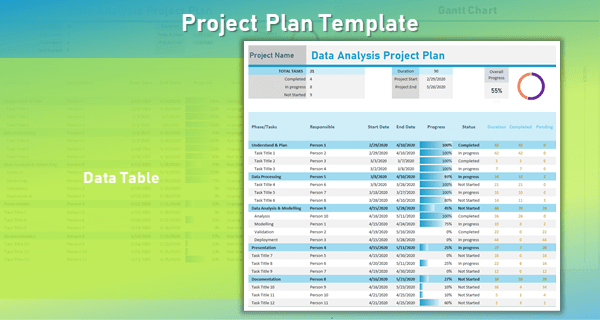 Use the Tab Key to add new record in the Table, this will create new empty row in the data planner.  You can also utilize the built-in forms in Excel to easily enter the records in the Planner Data Sheet.
Spreadsheets in Data Analysis Project Planning Template
Here are main spreadsheets in the Project Plan Template Data Analysis.
Template Details: Basic information about the Excel Project Planner. And Password to unlock the worksheet. So that you can customize and enhance the template.
Project Plan Gantt: This is the main sheet to visually represent your plans in the Gantt Chart Format along with the Project Task Details.
Plans Data Sheet: This is your Tasks Data Entry sheet, you can add all your project task in this sheet along with responsible associate and timelines.
Advanced Project Plan Template: These are more advanced templates, you can download to manage your projects with more options and advanced functions.
Project Plan Template for Data Analysis – Free Download
Here is the free Project Plan Template in Excel Format. You can download, open and manage your projects using Microsoft Excel.
Related Topics