Resource Planning Template Excel helps to plan resource capacity planning, utilization and allocation. You can Track and to monitor the bandwidth of the team and manage your resource more effectively. A Project Resource Template can be very helpful to simplify and schedule your Project Resource. Resource allocation template in Microsoft Excel is created for resource tracking. You can download and use this free resource planning spreadsheet template for capacity planning.
Resource Planning Template Excel
You can download the Excel Resource Planning Template and Enter the Data in the Data Sheet.Resource Allocation Template Excel Microsoft Spreadsheet is easy to use and manage your team resource. You can resource utilization template excel is one of the useful resource planning tools excel for resource planning in Excel. You can go to Reports Tab to see the Resource Bandwidth by each month.
Download the Project Resource Planning Template in Excel Format
Click on the Resource Report button in the Details sheet
Click on the 'Data Entry' button in the Report Sheet to Enter New Records
You can change the default format of the template using the built-in tool in Excel
This Template will work on Excel 2007, 2010,2013,2016.
This templates also compatible with Mac with Office 2011 or 2016.
Fields in Project Resource Planning Template Data sheet
We have captured minimum required fields in the Resource Data Sheet. You can add more dimensions if required.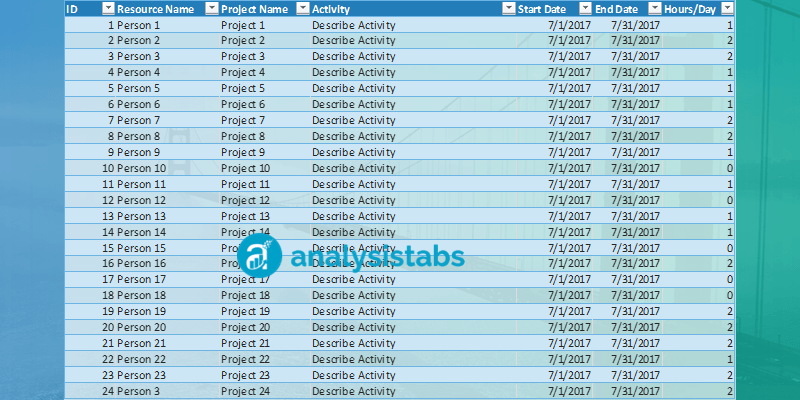 ID: Resource Activity Serial Number
Resource Name: Name of the Resource
Project Name: Name of the Project allocated
Activity: Activity Description assigned to the Resource
Start Date: Date to start working on the task
End Date: Due Date to complete the task
Hours/Day: Hours required per day to complete the activity.
Project Resource Planning Template Report
Report in Resource Planner Excel and Heat Map in Project Resource Planning Template helps to understand the bandwidth used and available for each resource of your team. You can select month and year from the drop-down list and select the required items. This will automatically populate the sum of hours by person per each day of the month.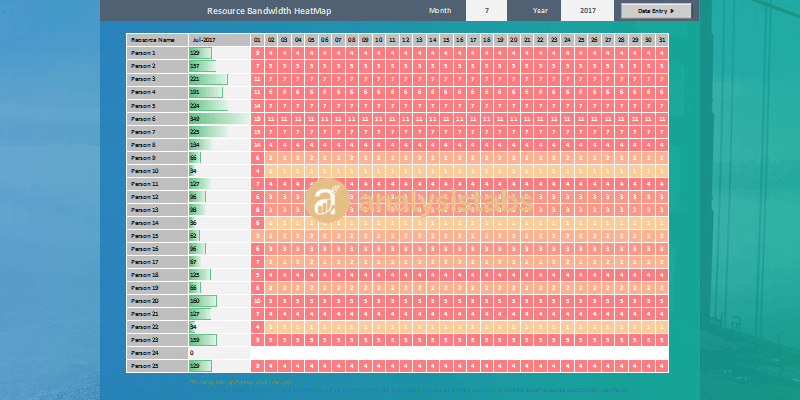 Resource Name in the Left side is the list of name of your team
Month and Year Data Bars: This bar chart represents the overall bandwidth utilization of your team members for the entire month
White Color represents No Hours allocated on the date, i.e; Resource is completely Free
Light Orange Pink Color represents fewer hours utilized
Dark Pink Color represents More hours utilized
Download Free Project Resource Planning Excel Template
Here is the Excel Template for Planning the Project Resource. You can download and make any changes if required to suit you needs.
How to Create a Resource Plan in Excel
Follow the below steps to create a resource plan in Excel.
Download the Free Resource Plan Excel Template
Go to Data Sheet to enter the data
Select data for Resource Name, Activity Fields
Enter data for in Start Date, End Date Fields
Also Enter Man Hours in Hours/Day Fields
Now check the Report Tab to Plan your Resource
Please Check Our Premium Project Management Templates
Hope this topic 'Resource Planning Template Excel – Free Download' helps you to understand and create your own Plans using Excel and VBA. We are trying our best to help you in your resource management by creating this free templates.
Feel free to download the Free Resource Scheduling Template and other Excel Templates available in our blog. Please share your valuable feedback and thoughts with us about our Templates and other stuff in our blog and Forums.