Multiple Project Tracking Template Excel helps you to manage the Multiple Projects and Resource in Excel . Multiple Project Tracking Template Excel Free Download is created using Microsoft Excel in xls and xlsx Format. Here is the Free Multiple Project Tracking Template Excel file. You can download multiple project tracking template excel file and use it to track multiple projects in one Excel file. This is our free project and resource planning template for managing and tracking multiple projects.
This Multiple Project Planning Template contains Project Dashboard, Project Gantt Chart and Project Summary. You can edit any part of this template and change the look and format of this Excel Template. We have developed this template using 2016 version of the MS Excel and it works on Excel 2007,2010,2013,2016 and Microsoft 365. This is compatible with both Windows and Mac OS.
Multiple Project Tracking Definition
Managing the tasks, resource and timelines for executing and completing more than one Project is called Multiple Project Tracking. We can use Excel Templates to effectively Plan and schedule multiple projects in a single spreadsheet
Multiple Project Tracking Template Excel – Free Download
Here is Excel Template for tracking multiple projects. You can add as many projects which you want in this template. This template contains 10 Projects and 40 Tasks for illustration purpose. You can clear the existing data and add your own plans and tasks.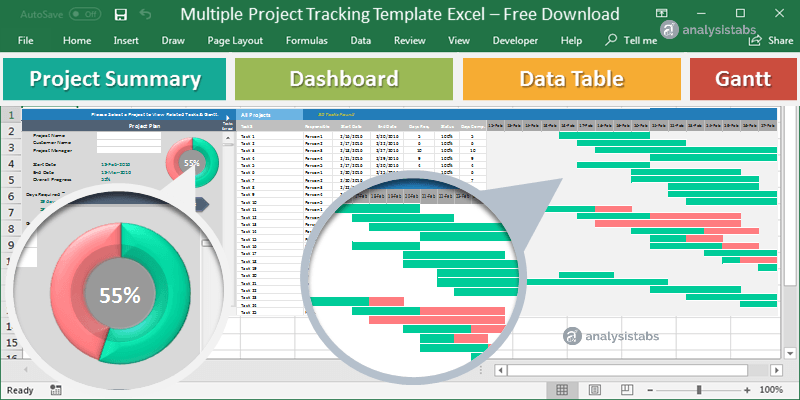 This Templates is developed using Microsoft Excel with Macros to handle multiple projects in a single workbook. And we have provided easy to use user interface and controls to navigate the template objects.
How to Track Multiple Projects in Excel
Dive into our step-by-step guide on setting up efficient tracking systems, visualizing progress, and ensuring every project stays on target. Download Free multiple project management tacker and Keep track of multiple projects in excel.
Excel is very useful for tracking Multiple Projects in Excel. You can download our multiple project tracking template excel free download, open and create new project.
Then enter project plans and assign to resource. It is very easy to manage multiple projects using this simple and easy to use Template.
You can download the template and use this for resource planning template for multiple projects. We have added free excel project management tracking templates in this project tracking template.
We have included multiple project dashboard template excel, Gantt Chart for multiple projects, multiple project timeline template excel, multiple project status report template.
Elements in Multiple Project Tracking Excel Template
Here are the most important elements in the Multiple Project Tracking Template. We must include these elements for effectively manage and tack the tasks of multiple projects.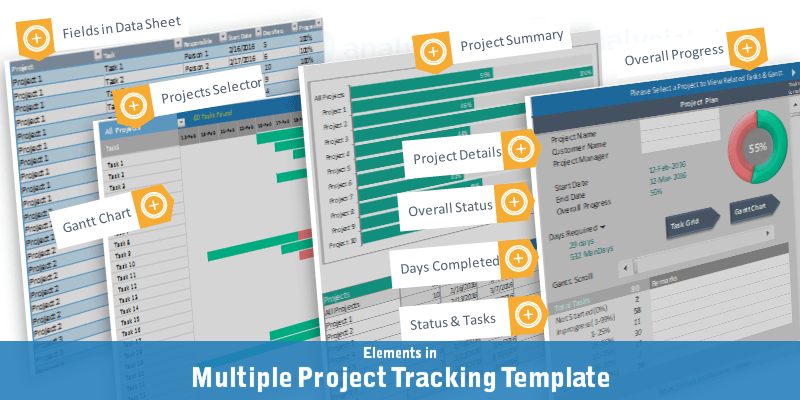 Other important Elements in this Project Tracking Template are Remarks and Toggle Controls in the Project Plan Sheet. Field to be included in the Data Sheet. And Navigation button in the Details sheet.
Multiple Project Tracking Spreadsheets
We made the template with simple and easy to understand interface for tracking multiple projects. We have 5 spreadsheets in this Template. And each spreadsheet is created for difference purpose. Here are the spreadsheets in this templates with clear objective and explanation of controls in each Worksheet.
Details Spreadsheet:
The objective of the Details worksheet is to provide quick brief about Multiple Project Tracking Excel Template. Her you can find the compatibility and version information. Brief about the Project Plan Template.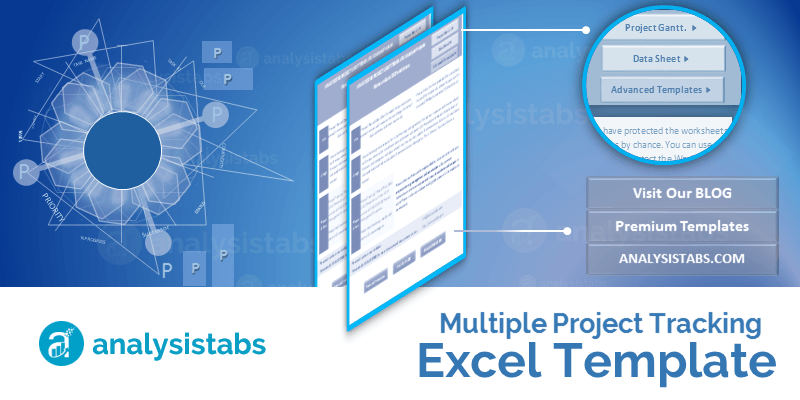 And we have provided Password to Un Lock the Spreadsheets and simple usage instructions.
Navigation buttons in Details sheet:
Project Gant Button: You can click on this button to go to the Main Gantt sheet Template Sheet.
Data sheet button: Clicking on the Data sheet button will take you to the Data Sheet Tab. You can add your task for each Project.
Advanced Templates Button: This will activate the worksheet where we have shown some of our premium Templates.
Premium Templates Button: This will take you to our website where you can download Premium Project Tracking Templates.
Visit Our Blog button: Here you can ask questions about our multiple project scheduling tracker and other project management templates.
Sharing of Multiple Project Tracker Template: You can share this template with your friend and colleagues. So that will have the opportunity to download our Free or Premium Project Tracking Templates.
Project Plan Tab:
Project Planning Tracker is the main sheet in the template. You can see all your projects and plans in a Dashboard and view timelines in the Gantt chart. You can select any Project using drop-down list and see its Tasks and Overall Project KPI Metrics, Project Status and % Progress completed.
Projects Summary Sheet: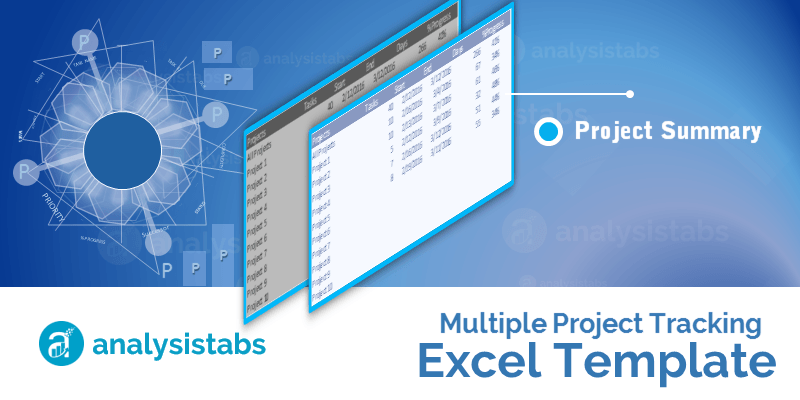 Project Summary Template helps you to understand high level KPIs metric by each Project. You can see the Overall % completion of Project and % work remaining. We can also find Number of Tasks in the Project and Start Date and due date of the Project. And Number of days required to complete all tasks of a Project.
Data Sheet Tab:
Data Sheet Template is created to enter all your tasks and plans of your projects. You can select a project and respective tasks and activities to tack. Here are the important fields and data capturing in the Data Sheet.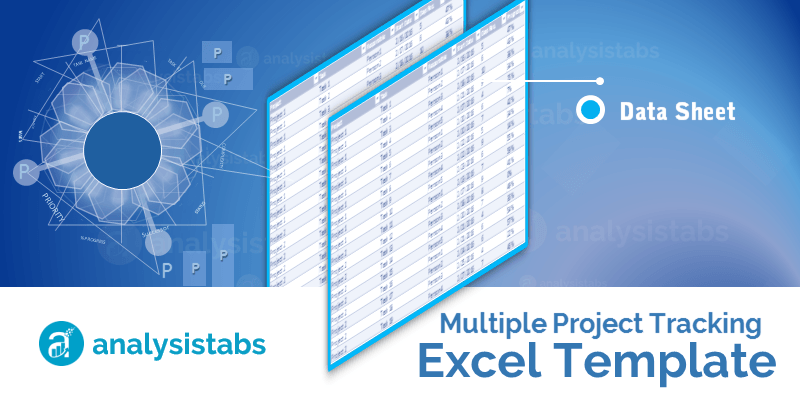 Project: A drop-down list is available to select a Project Name. It will show you list of Projects added in the Summary sheet and you can choose any project to add tasks.
Task: It is your activity, you can write the title of your task. You can maintain a list of tasks in a spate sheet and change the cells to have a drop-down list. So that it will become easy to add tasks and save time. This helps when you have pre-defined list of common tasks performing in your team.
Responsible: This is the name of the person who is responsible to complete a task. You can maintain a list of your team members and create list as explained above.
Start date: Date of the Day which you are going to start this task. Start Date may depend on your previous tasks and availability of the inputs. Also depends on the resource bandwidth.
Days Required: You can mention the number of days required to finish the task. You can add more features to ignore the holidays and weekends.
Progress: This is the %of work completed, you need to update daily. So that your Project Dashboard and Gantt will reflect the accurate status of your Projects.
Additional Fields: We have created the template with minimum required fields, you can add more fields if required and customize the template accordingly.
Advanced Project Tracking Template Worksheet:
We have created a spate worksheet to showcase our Advanced Multiple Project Tracking Templates. You can click on the button to visit our site and have a look. If you need more features, you can opt the advanced tracking templates to effectively manage multiple projects.
Steps to Track Multiple Projects using Excel Templates
Now, let us see the simple steps to track the multiple projects using this Excel Templates.
Step 1: Download the Excel Template and Save it in your local folder (personal documents folder)
Step 2: Open the Template and Go to the Summary Sheet. And Change the names of the Projects.
Steps 3: Now go to Data Sheet to add new tasks. Clear the existing Data it the Table, and add new Tasks under any project with required information.
Adding Projects in Excel Template
Adding a Project in this Template is very easy. We have created this template to support multiple Projects. So, you can add any number of projects to track effectively. Here is the Process of adding new projects.
Go to Projects Summary sheet in the Template
Clear the existing sample Projects in the Colum B, Range B4 to B13.
Now enter your Project Titles from Range B4
We have total 10 sample projects in the sheet, you can have more than 10 projects and drag down the formulas in column C to H.
Adding Tasks in Multiple Projects Plan Data Sheet
We have seen how to add new projects, let us see the process of adding new tasks. Data Sheet is created to add and maintain all your project activities.
Go to Data Sheet in the Template.
Clear the existing sample data in the Table.
Select the Project Title in the Project Column.
Add New Task Title in the Task Column.
Assign the Task to a Team Member under Responsible Column.
Enter the Date when your team member start working on the task.
Specify number of man-days required to complete the task. This may vary from person to person. And the available bandwidth.
And Update the Progress % completed on daily.
New Features in Multiple Project Tracker
We have added many new features in the Multiple Project Tracking Template. We have added more Status segments under Total Tasks.
We have formatted the Pie charts which is showing the overall Progress.
A separate drop-down list to select a project
And a formula at Range K1 to show total tasks in the selected Project.
Separate Summary sheet to add and maintain the Projects.
New chart in the summary sheet to show the Status of Projects.
Multiple Project Tracking Dashboard
Multiple Project Dashboard Template Excel is a dynamic dashboard. Excel Dashboard in this Multiple Project Tracking Excel Template is totally changed. We have linked the Charts and Status of the Projects with the section.  We can see the change in the Dashboard when you change a Project in the drop-down at Range K1.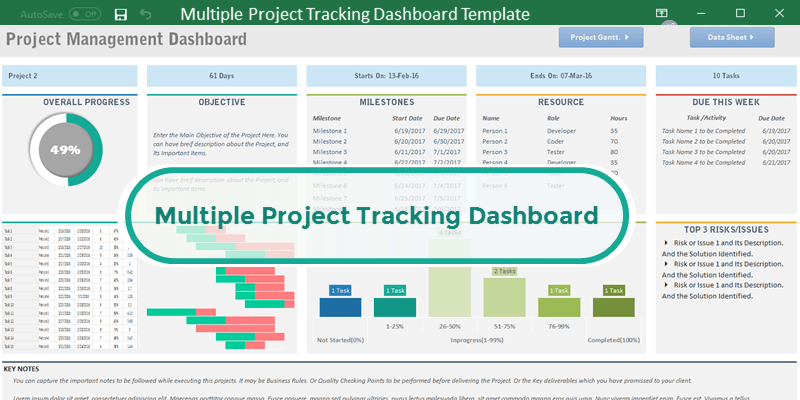 Alternatively, you can see all Projects at one time by selecting the 'All Projects' from the drop-down. So, this helps you to monitor your project one by one and all together.
Multiple Project Dashboard Template
You can show or hide the Task grid using 'Task Grid' button in the Dashboard.
Click on the 'Gantt Chart' button to toggle the Gantt chart in the Dashboard.
Use the Vertical Scrollbar to scroll down or up the Project Tasks.
Gantt Scroll bar helps you to scroll the Gantt chart horizontally.
Multiple Project Tracking Gantt Chart
We have linked the Gantt chart with all Projects. This will automatically change when you select any project from the drop-down. You can find dates on top of the Gantt, you can scroll towards right or left using Gantt Scrollbar in the Dashboard.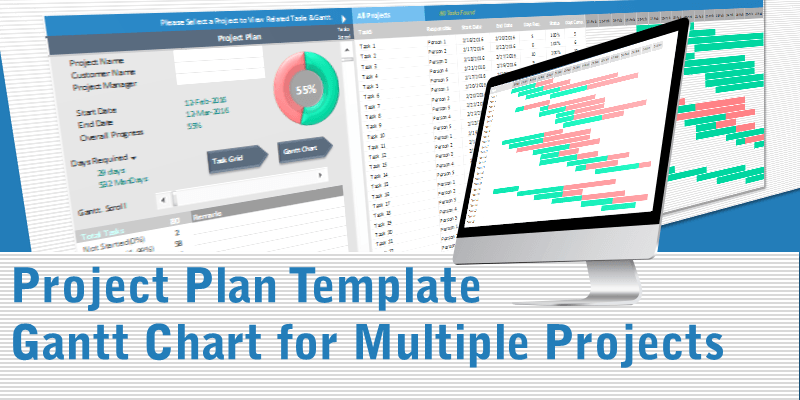 Download Latest Gantt Chart – Free Excel Template
Green color indicates the %completion of a task
Red color indicate % of days remaining for each task
15 time-points are showing on the Gantt Chart, you can customize if required.
Check out our advanced Gantt Chart templates for more advanced features.
Multiple Project Tracking Software
We have created very powerful and easy to use Project Tracking Software. Please visit our site for more details. Here is the list of features in Multiple Project Tracking Software.
Modern look and feel
We can add any number of Projects
Adding Projects, Milestones and Tasks is very easy
Powerful and advanced Gantt Chart
Popup Date picker will trigger automatically when it is a date field
Option to specify holidays
Multiple sections to analyses each aspect of your Projects
Unique framework to customize the template as per your organization requirements.
Please let us know your feedback and suggestion on our Multi-Project Tracking Template. We will add new features and update this template regularly. so that you can download and have latest template. Please do not forget to like. Please share this template with you peers, mangers, employees and other colleagues.