Free Invoice Template Excel Format helps you to quickly prepare your invoice using Microsoft Excel. Download Free Invoice Template in Excel Format. Template includes Total, Subtotal, Tax, VAT, Discount and Amount Due with Formula to calculate Totals.
Invoice Template in Excel Format:
We have created clear and easy to use Invoice Template using Microsoft Excel. Worksheets in this Free Excel Invoice Template are ready to print and clear to enter information, items and figures.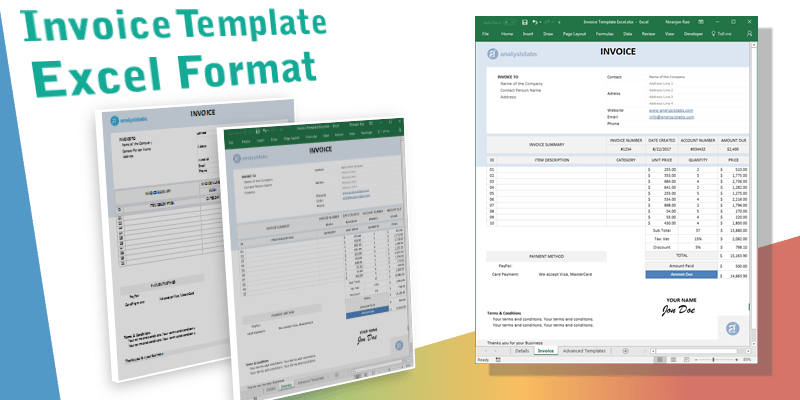 This Template for Invoice divided into 8 Parts: Invoice Header, Owners, Summary, Invoice Tables, Totals, Payment Methods, Terms and Conditions, Signature and Invoice Footer.
Elements in the Free Invoice Template:
Company Logo: You can find our Logo at top left corner of the Template. You can replace with your company Logo.  We recommend your organization logo with Company Name.
Invoice To: Here you can enter the client details including Client Name, Company Name and Contact Details and Address. This is the standard format of the Client or customer details, and mandatory to include in the top of the invoice template. We have provided this in the Left side of the Owners area.
Company Details: Here you can mention your name (Team Manager and above). And your address details. It should also include the website name, email address and phone number.
Invoice Summary: Overall Summary of the Invoice helps you to quickly figure out the invoice details. Customers are busy and they all wants to have a look at the overall Amount due before going to the details. It is very helpful if you are generating recurring or repeated invoices.
Invoice Table with Items: You must clearly specify each item (or milestone) which you have delivered and charging the customer. This should be very detailed, it helps you to as reference document when someone questions about the rates and quantity.
You can include, Item Number, Description, Category, Unit Price, Quantity, and the Total Price.
Totals, Subtotals, Tax and Discount Rates: After specifying each item, you can have the Total of all items, and Tax to be paid, discount offered and amount already paid and Amount due.
We have used Excel formula, you can change it if required. Tax and Discount vary from each invoice. We have provided the dynamic fields and you can just input the figures in invoice repopulate and recalculated with the updated numbers.
Payment Methods: You must mention the payment methods, better to have more than one method. So that customers can pay based on their available methods.
Most invoices Templates included Credit or Debit Card, PayPal and Direct Bank Transfers.
Footer of the Invoice Template:
Terms and Conditions:
This is mandatory information; every company must add at end of the invoice Template. You can add the terms agreed with your client or stakeholder while accepting the project.
Name and Signature:
You name and digital signature can be added at end of the invoice sheet. You can also have some important notices at the footer area of invoice spreadsheet.
Thank you and business Icons:
Bottom of the footer will have the thank you message to the customer. And you can have the small logos of companies (both development and client organizations). You can also include social media and website links of the company.
Invoice Template Excel – Free Download
Here is the free Template for creating Invoice using Excel. You can download the Template and input your details. You can also change the fields if required.
It is very easy to use and simple to customize the template. Download the template and share your feedback in the comment area below.
Template for Microsoft Excel 2007, 2010, 2013, 2016 (Windows), Excel 2011, 2016 (Mac) – .xlsx Format:
Template for Excel 2003 and below (.xls Format):
Invoice Template Excel 2003 (.xls Format)
Please Check Our Premium Project Management Templates: