Download the Best and Free Project Plan Template in Excel Format. This free project management template is available in Excel 2007, 2010, 2013,2016 to download. Project Plan Template Excel is the most useful Project Management Template created using Microsoft Excel.
Project Plan Template is another important tool for Project Management System. Project plan helps to understand the project timelines and list of the tasks.
In this topic: You will get free Excel Project Plan Template and clear instructions to create and planning your project activities.
Excel Template for Project Planning.
Download: Project Plan Template for free.
How to create Project Plan Template in Excel?
How to use Excel Project Plan Template?
This Free Excel Project Plan Template is a Must have Work tracking Planner comes with a Sample Dashboard & Gantt Chart. You can schedule the Tasks and timelines in Microsoft Excel 2007,2010,2013 and 2016 formats.
Project scheduling Template is another important Project Management Template helps effectively Plan and Manage the Project. So, once we are done with the project initiation, we have to send the project plan with clear schedules. And a Project tracker should include all important project details. Also, Project Plan Plan should be clear for your clients and the team members working on that particular project.
Here is a sample and the best project plan Excel template prepared using Excel 2013. This Simple and Example Project Plan Excel Template with Gantt Chart planner will work on Excel 2003,2007,2010, 2013 and 2016.
Following are the example screen-shot and interactive excel online template. you can enter any data see how its working online. This is an excel macro template and Gantt Chart Template, you can freely download at end of this topic.
Project Plan Template Excel Free Download
Here is are the list of Free Excel Project Plan Templates for Planning your tasks, activities, projects, resource and time. You can efficiently mange your projects using our Free Project Plan Excel Templates. You can download the Files below and open it in Excel and Enter your plans. Each of the below template is create for different versions and OS, you can download and streamline your project tracking using most useful project management templates.
Sample Project Plan Template Excel
This is a sample screen-shot of Project Plan Template Excel Free Download. It follows the Interactive Project Plan Microsoft Excel Template. You can download the Free Project Plan Microsoft Excel Template at end of this topic.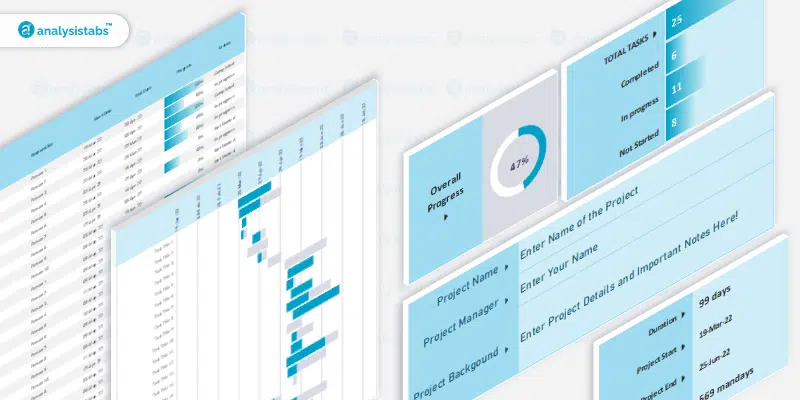 Project Plan Template – Free Excel Download – Interactive Excel Template
In this dynamic Project Plan Excel Template, you can change the status in sample data and see how the Template and is dynamically updating the Gantt chart. You can download the example file at end of this topic.
Why do we need Excel Project Plan Template for Project Management
Well, it is simple! Imagine you are a client and you have a project which can be given to any organization to get it done. So, the immediate questions you will think about is – Who will develop my project? And how many days they will take to complete the project? How they will split the work? How many people will work on it? And what is the cost of delivering each milestone?
Also, few organizations follow the standards like ISO standard, and separate business rules and specification. They will prepare the ISO project plan templates and use the same as standard document in their project management.
Answers for all these question will be available in our Free Excel Project Plan Template, you can download the Project Plan Template Excel Free Downloadable File at end this article. The other similar names to the Project plan template are Project Agenda Template, Project proposal template, Project Planner, Project Task Planning Template, Project Task Assignment Template, Project Task Distribution Template and Project Plan Template Free Excel Download, Project Task Scheduler and Project Tracker.
How to Create Excel Project Plan Template for Project Management
Project Plan Templates can be created based on the project requirements. Here are the steps to create Project Plan Templates. The template which we are providing here is for an IT project.
Similarly, You can prepare it for any domain like, real-estate, healthcare, retail,ect. While preparing the Project Plan Templates, you can consider the following points.
Think about your project and the different tasks which you have to complete to deliver your project
Divide all tasks in different Main Task. For examples: Project Design, Project Development, Project Testing, Project Documentation and Project Management/ Maintenance
Identify the lead programmers for this main tasks
Ask your lead programmer to divide the main task into different sub tasks and distribute to the programmers
Now you will have the main tasks and sub task to complete in order to deliver the final projects
Project mangers can think and decide the timelines for each task to deliver the project as per the client request
Now your project plan template should have: Project Title, Customer Name, Project Manager Name and email, Tasks to complete and respective programmers, tester to work on the project, and their email IDs
If your customer is new, it is better to to put the technologies which your going to use to develop this projects. And the skill set of your team
Now your project template will look good with the above details. You can use our Project Plan Template in Excel Format – Free Downloadable Template as a base template and change the required fields which you wants to add additionally.
Download Free Project Plan Template – in Microsoft Excel Format
Please click on the button below to ' download Free Excel Project Plan Template and enable the macro. You can click on any button to toggle the Gantt. Chart and Grid Table. If you need more powerful features, please check out premium templates features below.
Info: Project Plan and Gantt Chart Template helps you to plan a project timelines and resource. You can change the default data and formula to meet your needs.
Usage: We start planning our projects after initial meetings and agreement. We plan our resource and timelines based on the requirements, deliverable and available team and bandwidth. Project plan template helps to track all the tasks and its progress and status of each task. You can daily update the templates and share with your teams and customer/stakeholders to update the project status and progress. This is the must have tool for every project.
Project Plan Template Excel 2023
Below is the Project Plan Template Excel 2023, it is a valuable tool for streamlining project management processes. With its user-friendly interface, customizable features, and collaborative capabilities, this template empowers project managers and teams to plan, execute, and monitor projects effectively. By leveraging the power of Excel, you can optimize resource allocation, track progress, and ensure successful project delivery in the dynamic landscape in Excel 2023.
How to use Free Project Plan Excel Template
Follow the following steps to use our project plan template developed using excel.
Download the Excel Project Plan Template – 'Project Plan Template Excel Free Download.xlsx' file
Open and Enable macro once the Excel Project Plan Template opened
Fill the information in the white space (do not change any formulas now): Your Project details, Project Start date, Project Manger, Tasks, Programmers or leads and days required to complete the each sub task.
You can check the formulas and modify if you want to change anything
Tools & Controls in Excel Project Plan Template
There are Two buttons and a scroll bar to handle with our Excel project plan template.
Overall Plan: The screen shot which we have shown is the overall project plan. This is the summary of project plan
Status on Ribbon: You can check the overall progress on ribbon shape, you can format this using built-in excel formatting tools
Task Grid: Here you can enter list of projects task and the respective programmer and timelines
Gantt Chart: This will show you the progress pf each task and main tasks. green color indicates the percentage task completed and the red color indicates %task to be completed. You don't need to develop a separate Gantt chart template. it is already integrated in our Excel Project plan template
Scroll Bar: By default, template will show you status of the 16 days, Scroll bar will help you to scroll the dates/days behind that
We are proving free Microsoft office templates and creating best excel templates for free. You can use this templates while working on your projects for managing your projects.
I am preparing all project management excel templates or excel macro templates using Microsoft Excel for Windows. These Excel project management templates (Project Plan Template Excel Free Download.xlsx) should work on all the versions of the Microsoft Excel.
Important Fields in Project Plan Excel Template
Here are the key fields required to capture in this Excel Plan Templates. You can use these field to simply manage your projects and resource. You can create predefined list and for entering the tasks quick and easily.
Format of Project Plan Excel Template
Please note, .xlt and .xltx, .xltm are template file formats and the templates which we are preparing are saving in .xls format to help our readers. You can save Excel templates in Excel 2003 Template format (.xls or .xlt). Or you can save the templates in Excel 2007, Excel 2010 or Excel 2013 (.xlsx or .xltx, .xltm or .xlsm)
All excel spreadsheet templates which we are developing are mostly macro free. However, when we want to provide more interactive features, we are using macros or VBA (Visual Basic Applications for Office) and developing excel macro templates.
Most of these Excel spreadsheet templates are free and printable spreadsheets templates. And all these Microsoft office templates are developed using Excel 2013. Also, available online to test the templates.
Hope this topic 'Project Plan Template Excel Free Download' helps you to understand and create Project Plan Templates using Excel and VBA. We are trying our best to help you in your project management tasks by creating templates.
Feel free to download Project Plan Templates and other Excel Templates available in our blog. Please share your valuable feedback and thoughts with us about our Templates and other stuff in our blog and Forums.