Explore the versatile range of Excel Project Timeline Templates designed for efficient project management. Whether you need a Project Timeline Template Excel for 2022, 2023, a free version, or one with a Gantt Chart, our carefully curated selection caters to all your needs. Improve your project planning and tracking today with our easy-to-use and customizable Excel timeline templates.
As a project manager or team lead, you likely know the importance of having a clear, visual representation of your project's timeline. The often-overwhelming nature of juggling various tasks, deadlines, and stakeholders necessitates an efficient way of scheduling and tracking progress. This is where Microsoft Excel, a commonly used software worldwide, comes to your rescue. Through Excel, you can create a robust project timeline template to manage your projects with ease and efficiency.
Why Use an Excel Project Timeline Template?
Efficiency: Excel templates allow you to streamline the task of creating project timelines by automating certain processes. With a template in place, you only need to input your specific project information, and Excel takes care of the rest.
Customization: Excel templates are highly customizable. You can modify your timeline to fit your project's unique requirements, whether it involves color-coding tasks, incorporating task dependencies, or anything in between.
Accessibility: Microsoft Excel is ubiquitous, and most people are already familiar with its basic operations. This makes sharing your project timeline and collaborating with others a breeze.
Scalability: Whether your project is large or small, Excel templates can scale to fit your needs. You can create detailed daily schedules or high-level monthly overviews with the same ease.
Key Elements of a Project Timeline Template in Excel
Creating a project timeline involves more than just plotting dates and tasks on a chart. A well-structured Excel project timeline template should include the following key elements:
Project Tasks: Clearly list all the tasks involved in the project. These should be specific, measurable, and relevant to the project goals.
Start and End Dates: For each task, include a start date and an expected end date. This helps in visualizing the project's overall timeline and identifying any potential scheduling conflicts.
Task Owners: Every task should have an assigned owner. This ensures accountability and facilitates communication.
Task Dependencies: It's important to highlight any dependencies between tasks. Knowing the sequence of tasks helps manage the flow of the project and identify potential bottlenecks.
Progress Tracker: An ongoing visual representation of the task completion helps keep everyone on track and provides an at-a-glance update of the project's current status.
How to Create a Project Timeline Template in Excel
An Excel project timeline template can be an invaluable tool for project management. It allows you to have a birds-eye view of the project's timeline, keep track of task dependencies, monitor progress, and communicate clearly with your team. Remember, the key to an effective project timeline is keeping it updated and communicating any changes promptly to all relevant stakeholders. With the power of Excel at your disposal, project management can be made a lot more organized, efficient, and stress-free!
While there are many ways to create a project timeline in Excel, let's discuss a simple, step-by-step process:
Create a new Excel spreadsheet: Open Excel and start a new blank workbook.
Set up your columns: Label your columns with the key elements mentioned above: Task, Start Date, End Date, Duration, Task Owner, and Progress.
Input your data: Fill in the respective columns with your project information.
Create a timeline: Select the Start Dates and Task columns. Go to the "Insert" tab, click "Bar" in the Charts group, and then click "Stacked Bar."
Customize your timeline: Adjust colors, add data labels, or include additional details to make your timeline more readable and useful.
Update regularly: As the project progresses, regularly update the timeline to reflect changes and completed tasks.
Download Free Project Timeline Excel Template
To make things even easier for you, we have created a user-friendly project timeline template Excel File that you can download for free and start using immediately. This template has been designed keeping in mind all the essential elements required for efficient project management.
Project Timeline Template Excel Free Download
This free-to-download version of the project timeline template ensures that excellent project management tools are accessible to all. Despite being a free version, it does not skimp on features, offering the same level of detail and effectiveness as other templates.
Project Timeline Template Excel Gantt Chart
This variant incorporates Gantt charts, a popular tool in project management that provides a visual timeline for tasks of a project. Gantt charts make it easier to understand the sequence of tasks, their dependencies, and the overall timeline of the project at a glance. This template is ideal for those who prefer a more visual representation of their projects.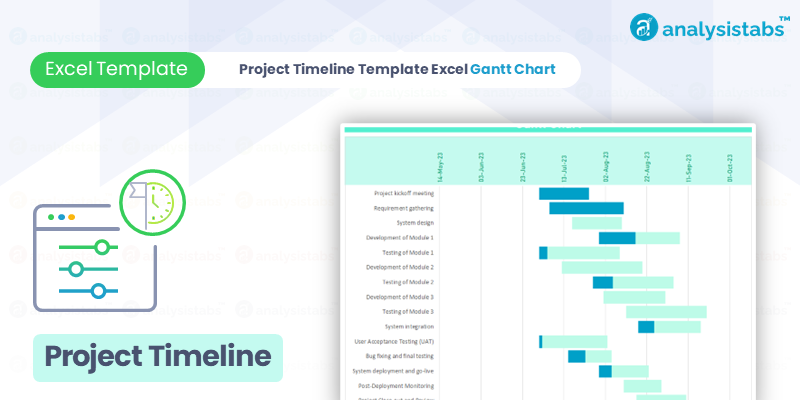 Project Timeline Template Excel 2022
This template is designed with the projects of 2022 in mind, incorporating the typical tasks, challenges, and workflow that project managers faced in that year. It is a retrospective tool that can be particularly useful for reviewing past projects or planning similar ones in the future.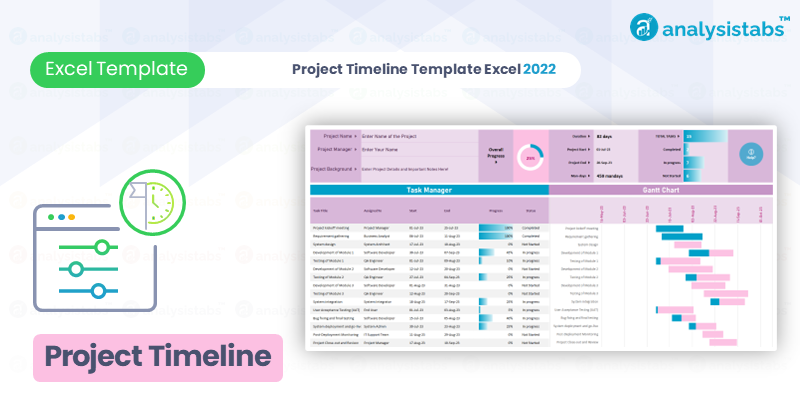 Project Timeline Template Excel 2023
Updated for the projects of 2023, this template includes newer features that respond to the evolving needs of project management. It is designed to handle a wider variety of projects and includes enhanced features to support remote and hybrid work structures.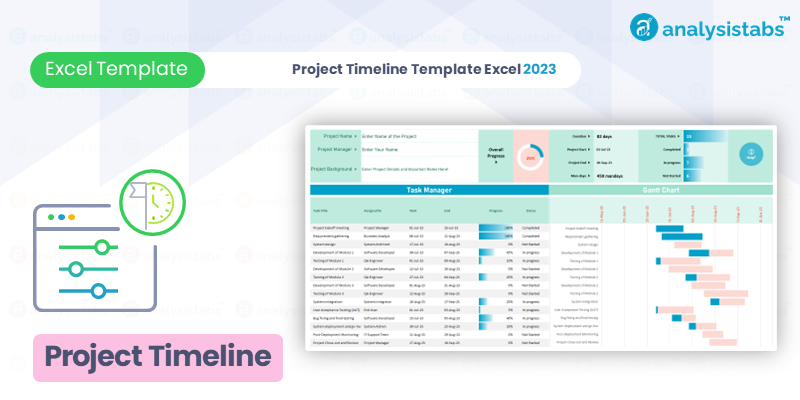 Each of these templates is tailored for different needs and preferences, offering various ways for project managers to plan and track their projects effectively.
Elements of the Template
Project Phases: A column to mark different stages of your project, providing a high-level view of the overall project timeline.
Task Details: Space to outline the specific tasks required in each phase of the project.
Start & End Dates: Fields to enter expected start and end dates of each task, providing a clear view of the task schedule.
Assigned To: A column to assign each task to a specific team member or stakeholder, ensuring accountability.
Progress: A dedicated column to update the task progress, % of the task (work) that has been completed.
Status: A dedicated column to track the status of each task in real-time. It's color-coded for easy visualization of the project progress.
Remember, while this Excel template has been designed to cater to most projects, you can always add or remove elements to suit your specific needs. The key to an effective project timeline is making it as detailed and accurate as possible.
Instructions
Here are the step-by-step instructions to enter data in an Excel project timeline template:
Open Excel: Start by launching Microsoft Excel and opening the project timeline template.
Understand the Columns: The template has six columns – 'Task', 'Responsible', 'Start', 'End', 'Progress (%)', and 'Status'. Understand what each column represents:

'Task': The specific task or activity in the project.
'Responsible': The person or team responsible for the task.
'Start': The planned start date of the task.
'End': The planned end date of the task.
'Progress (%)': The percentage of the task that has been completed.
'Status': The current status of the task.

Enter the Task Details: Click on the cell under the 'Task' column and type in the task's name or description. Press Enter to move to the next cell down in the same column and continue entering all your tasks.
Assign Responsibilities: Click on the cell in the 'Responsible' column next to a task, and type in the name of the individual or team responsible for that task. Continue this for all tasks.
Input Start and End Dates: Click on the cell under the 'Start' column corresponding to a task and input the planned start date. You can either type it manually in the format "YYYY-MM-DD" or choose it from the date picker that pops up when you double-click on the cell. Repeat this for the 'End' column.
Update Progress: As your project progresses, update the 'Progress (%)' column. Click on the cell corresponding to the task and type in the completion percentage.
Status of the Task: Under the 'Status' column, click on the cell corresponding to a task and input the status. This could be 'Not Started', 'In Progress', 'Completed', etc.
Regular Updates: Keep updating the data regularly. As the project progresses, tasks might get completed, delayed, or even fast-tracked, and new tasks might be added. Regular updates help in maintaining a real-time and accurate project timeline.
Remember, using Excel for project management is about making your job easier. Take the time to become familiar with the template and customize it to suit your specific project needs. Excel is a powerful tool, and with a bit of practice, it can become an invaluable asset in managing your projects.
So go ahead, download the template, and take the first step towards efficient, stress-free project management!
Wrapping Up: The Power of Excel Project Timeline Template
Microsoft Excel is more than just a tool for managing spreadsheets; it's a powerful project management resource that, when utilized effectively, can dramatically improve your team's productivity and efficiency. A well-structured Excel project timeline template provides a bird's-eye view of the entire project, enabling you to monitor progress, spot potential bottlenecks, and keep all stakeholders informed.
Remember, the power of an Excel project timeline template lies in its customization and scalability. Whether you're managing a large, complex project or a small, straightforward one, you can tailor your template to suit your needs. And with our free downloadable template, you've got a head start.
In project management, having a clear, visual, and easily accessible project timeline can mean the difference between chaos and cohesion. So why wait? Download our free project timeline template, start using it, and witness how project management becomes a smoother, more organized process. Enjoy the journey of turning your project plans into reality, one task at a time!
Hope, Our Free Excel Project Timeline Template helpful. Your feedback is important to us, and we'd love to hear your thoughts. Did you find the template easy to use? Has it helped improve your project management process? Do you have any suggestions for improvements or other topics you'd like us to cover?

Please share your thoughts and experiences in the comments section below. Your insights not only help us improve our content, but they also provide valuable information for others who are navigating the world of project management.