Transitions are the activities that connect the conclusion of one project phase to the initiation of another. It is important to ensure a smooth Project transition, especially when changing hands or transitioning to a maintenance phase. With that in mind, we've developed a comprehensive project transition checklist template to help you sail through this critical juncture without missing a beat and execute a project successfully.
Why Do You Need a Project Transition Checklist?
Transition periods are vulnerable to missed details, overlooked tasks, or miscommunications. A Project Transition checklist serves as both a reminder of essential tasks and a record of completed activities. It ensures consistency, maintains the quality of the transition, and acts as a communication tool for all stakeholders involved.
Consistency & Standardization: A checklist ensures a consistent approach to transitions, ensuring all projects adhere to the same high standards.
Avoiding Oversights: With so many moving parts in a project, it's easy to overlook certain aspects. A checklist keeps all tasks in view.
Clear Communication: It acts as a communication tool, ensuring all stakeholders are on the same page regarding what needs to be done and by when.
Accountability: Clearly listed tasks and responsibilities mean each team member knows their roles, promoting ownership and accountability.
Efficiency: Checklists streamline the process, reducing the time spent figuring out what needs to be done next, thus accelerating the transition phase.
Risk Mitigation: By ensuring all crucial steps are not missed, a checklist can help mitigate potential risks associated with transitions.
Performance Measurement: It provides a tangible measure of what has been achieved and what's still pending, aiding in project performance evaluation.
Enhanced Collaboration: When everyone knows their tasks, collaboration is smoother, with fewer clashes and overlaps.
Building Confidence with Stakeholders: Demonstrating a structured approach to transitions can boost stakeholder confidence in the team's capability.
Continual Improvement: Using a checklist allows for feedback on completed transitions, providing insights to improve and refine future handovers.
How to Create Project Transition Checklist Template
A Project Transition Checklist Template ensures a systematic handover by outlining critical tasks, promoting consistency, and preventing oversights. It streamlines processes, fostering efficient and smooth project transitions.
Planning and Preparation
Finalize transition plan: Before the handover, finalize and document all transition processes, roles, and timelines.
Compile all project documentation: Gather all necessary files, reports, and documents. This includes designs, codes, testing reports, and user manuals.
Identify all project stakeholders: Knowing who's involved helps in ensuring everyone is informed and prepared for the transition.
Knowledge Transfer
Conduct knowledge transfer sessions: Schedule and hold sessions to educate the incoming team or stakeholders about the project intricacies.
Document lessons learned: Both successes and challenges are valuable. Documenting them can provide insights for future projects.
Technical Handover
Transfer all project assets: This could range from physical hardware to software licenses.
Review access and credentials list: Ensure that all necessary access is granted and unused or unnecessary accesses are revoked.
Hand over the technical environment: This involves the transfer of servers, domains, databases, and other tech assets.
Confirm backup and restore procedures: Ensure that there's a plan in place for potential data recovery and system restoration.
Validation and Feedback
Validate the transition with stakeholders: Check with all stakeholders, ensuring that they are satisfied with the transition process and the project's current state.
Future-proofing the Transition
Confirm handover of all necessary licenses and permissions: This ensures legal compliance and uninterrupted project operations.
Develop a post-transition support and escalation plan: Who should be contacted if something goes wrong? Having a plan in place can be a lifesaver.
Ensure all project-related contracts/agreements are closed or transferred: Tie up any contractual loose ends.
Train the new team or stakeholders on system operations and maintenance: A well-informed team can prevent future mishaps.
Provide a point of contact for post-transition queries or issues: This ensures continuous support and smoothens any post-transition hiccups.
Elements of the Project Transition Checklist Template
Navigating a project transition becomes infinitely more manageable with structured tools like Excel templates. Let's break down the elements of your Excel Checklist Template and provide instructions on how to utilize it effectively.
1. Project Details
This section captures the foundational information of the project, providing context and reference. It typically includes the project's title, client's name, the project manager overseeing it, and a brief background to offer insights into the project's objectives and scope.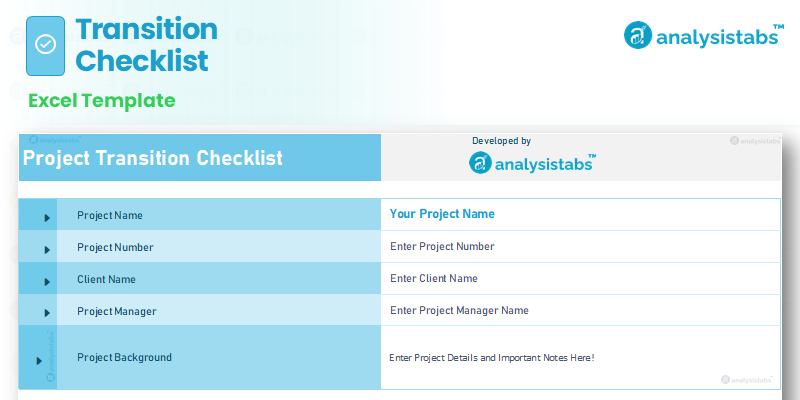 Project Name: This refers to the unique title or name given to the project. It helps in identifying and distinguishing the project from others.
Project Number: An identifier, often numeric, that's assigned for easy reference. It's especially useful if you have multiple projects running simultaneously.
Client Name: This specifies the client or the organization for which the project is being executed. It's essential for keeping track of the client portfolio.
Project Manager: The person responsible for leading and managing the project. This ensures accountability.
Project Background: A brief summary providing context about the project, such as its objectives, scope, and importance.
2. Checklist Tasks in Table Format
Acting as the core of the template, this table offers a structured way to enumerate and track all transition-related tasks. It assigns responsibility, notes progress status, and allows for additional comments or clarifications, ensuring that every transition step is methodically addressed and accounted for.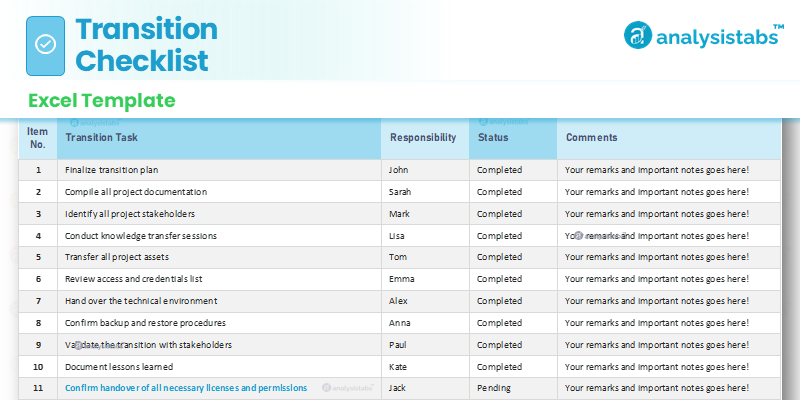 Item No: A sequential number for each task, aiding in organization and easy reference.
Transition Task: Specific tasks or actions required for the project transition. This forms the heart of your checklist, ensuring every crucial step is addressed.
Responsibility: Designates who is responsible for each task. This ensures clear accountability and can be a name or a role.
Status (Completed/Pending): Helps in tracking the progress of each task. It can be updated regularly to provide a real-time view of the transition progress.
Comments: A space for additional notes, feedback, or clarifications regarding the task. It's especially useful for noting challenges, exceptions, or providing context.
Instruction on Using the Project Transition Checklist Excel Template
The Excel Project Transition Template provides a structured pathway for seamless project handovers, ensuring task clarity, accountability, and real-time progress tracking. Here are the step by step instruction on using Checklist Template.
Filling Project Details:

Start by entering the project specifics in the 'Project Details' section. This sets the context for the entire transition.

Populating the Checklist:

For each transition task, assign an 'Item No' sequentially.
Clearly define the 'Transition Task' with specific and concise descriptions.
Assign 'Responsibility' for each task. Ensure the person or role assigned is informed of their responsibility.
Regularly update the 'Status' column based on task progress. It serves as a quick visual indicator of how the transition is progressing.
Use the 'Comments' section to capture any nuances or additional information about the task. Encourage team members to provide feedback or insights here.

Regular Review:

Regularly review and update the checklist, especially the 'Status' column. This could be done at project meetings or at predefined intervals.
Address any challenges or blockers highlighted in the 'Comments' section promptly.

Feedback Loop:

Once the transition is complete, use the 'Comments' section as a feedback tool. Analyze the challenges or blockers faced, and use this feedback for future transitions.

Archival:

After the transition process, save and archive the filled-out template. This serves as a valuable resource for future transitions, providing insights and learnings.
By diligently populating, updating, and reviewing this Excel Checklist Template, teams can ensure a comprehensive and efficient project transition, making the process transparent and manageable.
Key Checkpoints for a Smooth Project Transition
When orchestrating a project transition, ensuring a seamless handover is paramount. Transitions, if mishandled, can lead to inefficiencies, increased costs, or even project failures. To counteract these challenges and streamline the handover process, it's beneficial to maintain a checklist of essential checkpoints. These pivotal markers act as the backbone of any transition, ensuring that all aspects of the project are methodically and comprehensively addressed. Below, we delve into the most common checkpoints to consider during project transitions, providing a roadmap for teams aiming for a successful and smooth transition.
Transition Plan Review: Ensure the transition plan is comprehensive and has been communicated to all involved parties.
Project Documentation: Verify that all project documentation, including design documents, user manuals, and technical specifications, is compiled and accessible.
Stakeholder Identification: Confirm that all key stakeholders have been identified and informed about the transition process.
Knowledge Transfer: Check if all knowledge transfer sessions, including training and demonstrations, are scheduled or completed.
Asset Transfer: Ensure all project-related assets, whether physical or digital, are accounted for and ready for handover.
Access and Credentials: Review lists of access permissions, software licenses, and other credentials, ensuring they're transferred and that unused accesses are revoked.
Technical Handover: Confirm the successful transfer of servers, domains, databases, and other related technical environments.
Backup and Restore Protocols: Ensure backup solutions are in place and restoration procedures are clearly defined and tested.
Stakeholder Validation: Engage with stakeholders to validate the state of the transition and gather feedback.
Contracts and Agreements: Review and ensure that all project-related contracts, licenses, or agreements are transferred, renewed, or concluded appropriately.
Post-transition Support: Confirm that there's a support plan in place for post-transition queries or challenges.
Training: Ensure that new teams or stakeholders have received necessary training on systems, processes, or tools related to the project.
Feedback Mechanism: Implement a system for gathering feedback during and after the transition to address any challenges swiftly.
Resource Release: Ensure that resources, whether human or technical, are appropriately released or reallocated post-transition.
Communication Channels: Verify that all communication channels, like emails, chat groups, or project management tools, are handed over or archived.
Download Free Project Transition Checklist Templates
Navigating project transitions can be a challenging feat. But with the right tools at your disposal, the process becomes significantly more streamlined. In our dedicated download section, we offer a diverse range of Project Transition Checklist Templates tailored to fit every need. Whether you're an Excel enthusiast, a Word document devotee, or someone seeking a simple checklist, we've got you covered. Designed with precision and a deep understanding of project requirements, our templates aim to simplify your transition process. Don't let project handovers be a daunting task – download our free templates and transition with confidence and clarity!
Project Transition Checklist Template Free Download:
Embarking on a project transition? Simplify the process and ensure no detail is overlooked with our free Excel template tailored for seamless project handovers. Efficiently track tasks, assign responsibilities, and monitor progress all in one place. Don't leave your transition to chance; download now and transition with confidence! A freely available template for those not wishing to reinvent the wheel. It provides a standard structure that teams can use as a starting point, adapting as necessary for their projects.
Simple Project Transition Checklist Template:
This straightforward template is perfect for those seeking a no-frills approach. It outlines the essential steps in the transition process, suitable for smaller projects or teams already familiar with transitions.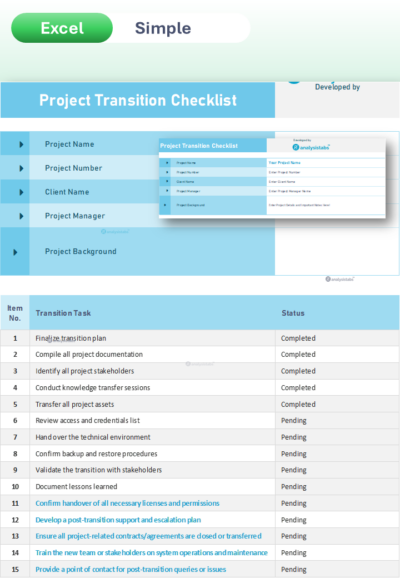 Project Transition Checklist Template Word:
Designed specifically for Microsoft Word users, this template allows for easy editing and customization. It's especially useful for teams that prefer to work within a text-heavy, document-centric environment.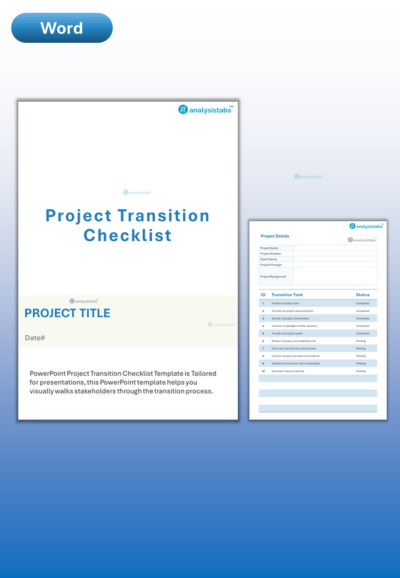 Project Transition Checklist Template PPT:
Tailored for presentations, this PowerPoint template visually walks stakeholders through the transition process. It's ideal for teams needing to present transition plans in meetings or workshops.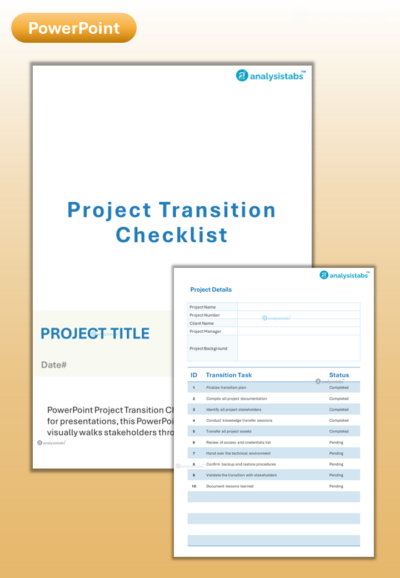 Project Transition Checklist Template PDF:
This static format is perfect for distribution, ensuring that the content remains consistent across all viewers. It's especially suitable for finalized plans ready for dissemination without further edits.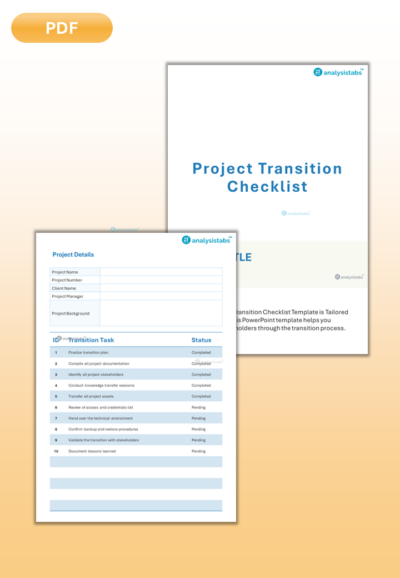 Project Transition Checklist Template Excel:
Project Transition Checklist Excel, Specifically tailored for Microsoft Excel, this template leverages spreadsheet functionalities. With columns for tasks, responsibilities, status, and more, it offers a dynamic and interactive way to track and manage transition tasks. A variant of the Excel template, it's designed to fully exploit Excel's capabilities, like auto-calculations, filters, and sorting, ensuring an efficient and organized transition process.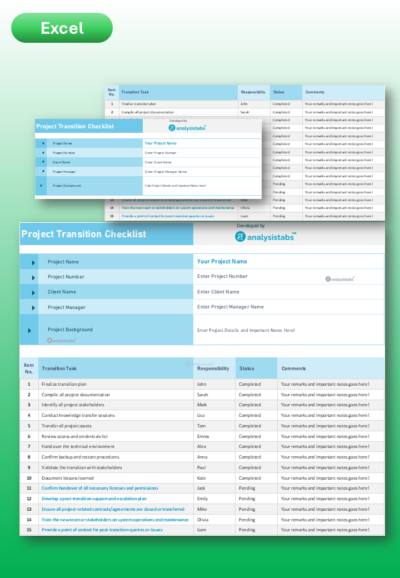 Wrapping Up: Streamline Your Transitions with the Right Tools
Project transitions are pivotal moments that can define the success of a handover. With our 'Project Transition Checklist Excel Template', we aim to equip you with a tool that's not just efficient but also ensures that every detail, however minute, is taken into consideration.
Your feedback is invaluable to us. Please share your thoughts on how the template has worked for you and any suggestions for improvement. Every piece of feedback aids in refining our tools and serving you better. Let's collaborate, learn, and grow together in mastering the art of smooth project transitions. Share, comment, and let's build a community of efficient project managers!