Wish you A Very Happy New Year, the new version of ANALYSISTABS Excel Add-in is ready to release on 1st Jan 2014. This is more robust and powerful than the previous versions. This version is optimized to work on both 32 bit and 64 bit Operating Systems. Add added many feature and new tool for developing Dashboards. Following are the new features and changes in this version.
Download the New Version
New Features
Dashboard Builder
Now you can create rich interactive dashboards in just few minutes with no knowledge of VBA. Dashboard builder is provided for creating rich visualized dashboards. You to create summarized Pivot table with linked chart. You can select desired table and set as a data source. There are three options provided to set a data filter, set row labels, to set data values with chart option. You can choose from the different chart options and chart axes. And you can also set the units to display in the chart and summary table.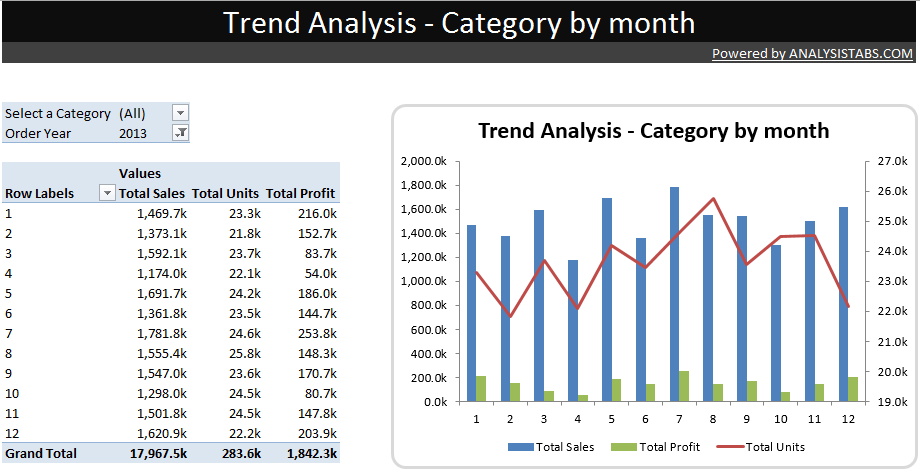 List Files and Folders
List Files and Folders help you to quickly check and understand a folder. It will populate complete information about the files and folder. It will be easy to analyse your files and folders using this tool.

And below are the other important changes and enhancements made in this version:
Enhanced: Slider Navigation Changed to Ribbon Menu Dashboard group
Enhanced: Widget Expand and Collapse to Ribbon Menu Dashboard group
Enhanced: Now you do not required to save your file as Macro enabled file, you don't need to place any macros in your workbook
Enhanced: Now you can use ANALYSISTABS on both 32 bit and 64 bit Window OS
Updated: All tutorial links are updated correctly
Please download the updated tool from the from here and let me know your feedback. Please not this version does not required to save any macros in your excel file. You can save your Excel dashboard as normal excel files (i.e; .xlsx).