Free Project Management Templates Excel 2007 is an Excel Project Plan Template created using Microsoft Excel 2007. Excel 2007 version of Free Project Planning Template helps you to plan your project schedules more effectively. You can download the ready to use template in Excel 2007 File Format (.xlsx,.xlsm). This ultimate template works on Excel 2007 and higher versions of MS Office.
Free Project Management Templates Excel 2007 – Project Plan Excel 2007 Template
We have added new tools to compatible with Excel 2007 and higher. Here are the new features in Excel 2007 Project Plan Template:
Details Worksheet: We have provided brief introduction about Excel 2007 Template and the Navigation buttons to the Project Plan.
Project Plan Worksheet: This is developed using all new features available in Excel 2007, We have used conditional formats to highlight the Status of each task in the Gantt Chart.
You can capture the mandatory project details in this worksheet.
Project Name is the Name of the Project which you are planning using this Excel Template
Customer Name: Name of the client which you are preparing this template for.
Project Manager: Name of the Project Manager who is responsible for this project ( You name, if you are the project manager)
You can capture the mandatory project fields to plan your tasks and show the schedules in the Gantt Chart:
Task Name is the name of the Task of Activity Label
Responsible Person: Name of the Resource assigned to this task to complete and deliver it on-time.
Start Date: Scheduled Date to start the Task
End Date: Scheduled Date to complete the Task
Status: % of the progress or completion rate of task.
Days Required; Actual days required to complete this task
Days Completed: Actual Days completed from scheduled Start Date.
Please Note: All the Cells highlighted in grey color are formulas.
How to schedule tasks using Excel 2007 Template
You can download the file and Open the File in Excel 2007 and above. This is a Macro File (xlsm format), this will prompt you to enable the macros, enable it, so that the macro is file works properly.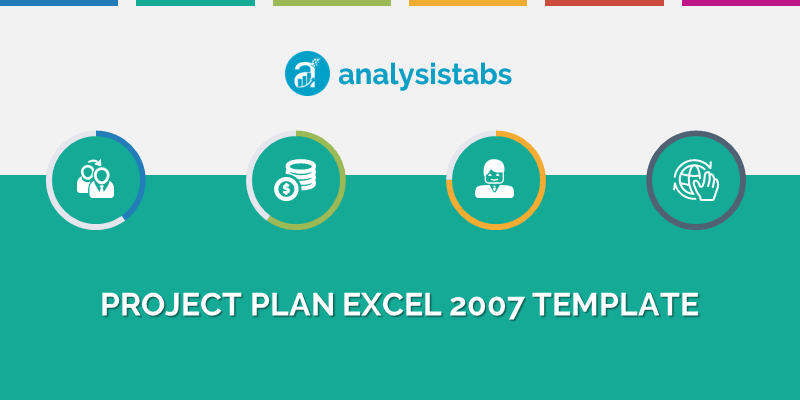 Go to Project Plan Worksheet
Enter the Project Details in the left section of the Template
Start adding the Tasks (Task, Responsible, Start Date, End Date, Days Required, Status)
Calculations for Gantt Chart will be performed automatically, and the color will be changed according to the Task Schedules
How to use Project Plan Excel 2007 Template
You can download the files and store in your local machine. We recommend you to save in the personal documents folder, so that other users can not access your templates to see your plans.
Create a Folder in your Personal Folder
Download the Template and Paste in the New Created Folder
Open and Save As it with the Project Name every time you wants to create new Plan.
And Start adding the Plans as explained above.
Download Free Project Management Templates Excel 2007 – Free Download Project Plan Template Excel 2007 Format
Here is the Free Excel Project Plan Template in Excel 2007 Format (xlsm file). You can download it and save it in your personal folder. Please feel free to share this template with your colleagues and friends.
Premium Project Plan Template for Excel 2007 and Above
We have create most powerful and easy to use Excel Project Plan Templates compatible with Excel 2007 and higher. Please have a look and see if you need more advanced features in Excel Project Plan Templates.
120+ Professional Project Management Templates!
Save Up to 85%
LIMITED TIME OFFER
A Powerful & Multi-purpose Templates for project management. Now seamlessly manage your projects, tasks, meetings, presentations, teams, customers, stakeholders and time. This page describes all the amazing new features and options that come with our premium templates.

Share This Story, Choose Your Platform!