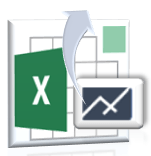 Hello Friends! Wish You A Very Happy New Year – 2013!
Friends!, I am planning to develop an Excel Add-in for Creating Dashboards and Performing Data Analysis. This is my new year resolution -2013!
Here is my plan for developing Excel Add-in
TOC Creator: You can quickly create Table of Contents in your Excel Workbook. It will create the hyperlinks to each worksheet of your in Index Page. You can create in New worksheet or an exiting worksheet
Focus Group: I want develop this for Analysts to make their job in Creating Dashboards and Performing Data Analysis.
Releases: I am planning to release the first version in 14th Feb 2013 19th March 2013 1st May 2013, and then release the new versions at least once in two months
Version Supports: I will make sure that the new versions supports at least last 2 previous versions
Cost:Absolutely FREE for Personal and Official Use
Following feature will be added shortly…
New Features: I am working on the following new features to release in the next versions of ANALYSITABS Excel Add-in.
Files and Folders: You can choose a folder to populate all files and folders in the directory or sub directory. And many more file operations you can perform.
Task Automaton: You can automate your tasks with out writing VBA programming, you can simply select the steps, add in will take care of the VBA programming)
Tasks Scheduler : You can schedule your tasks and take a break, ANALYSISTABS Addin will works on it and complete the tasks for you
Dynamic Charts: Make your Excel charts more interactive by creating dynamic charts using ANALYSISTABS Excel Add-in
Interactive Excel VBA Tutorials: Adding an interactive environment to learn Excel and VBA
Quick Dashboards Builder: You can build dashboards using ANALYSISTABS quickly, bundle of features to create awesome dashboards.
Enhancements: Here are the features which I am working on to enhance existing features. I am planning to release with the next version of ANALYSITABS Excel Add-in.
Export to PowerPoint: New features and customization
Widgets: New features and customization
Slider: New features and customization
Bug Fixes: I have changed lot of things in website (ANALYSISTABS.COM), I am going to correct the links in the Add-in

Feel free to share your suggestions and ideas if any: